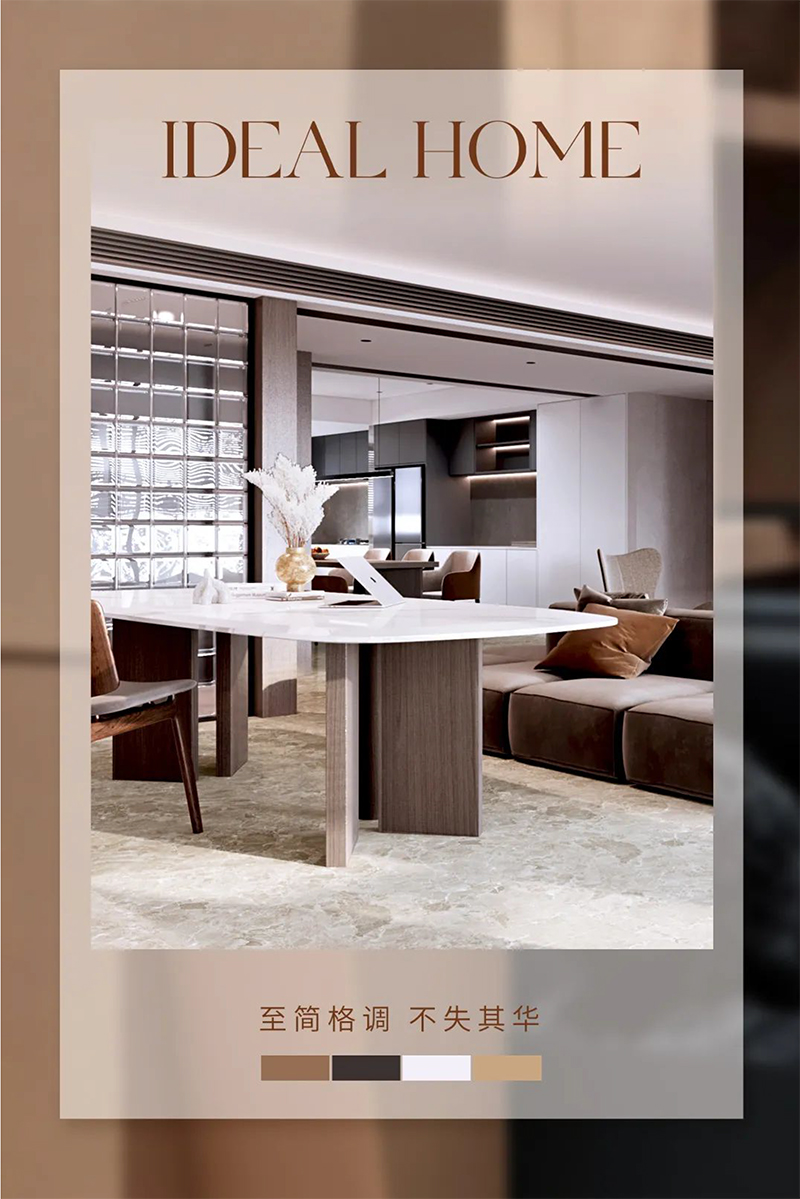 纵使身处这纷繁复杂的世界,我们对"家"也有着千万种构想。兼顾使用功能及美学呈现后,从心出发、构筑属于自己的精神领地,每一处角落都是居住者的生活写照。
PROFECT IMFORMATION
NAME | 华润万象城·幸福里
SIDE | 湖北·武汉
SQUARE | 172m2
LAYOUT | 大平层(两厅三房)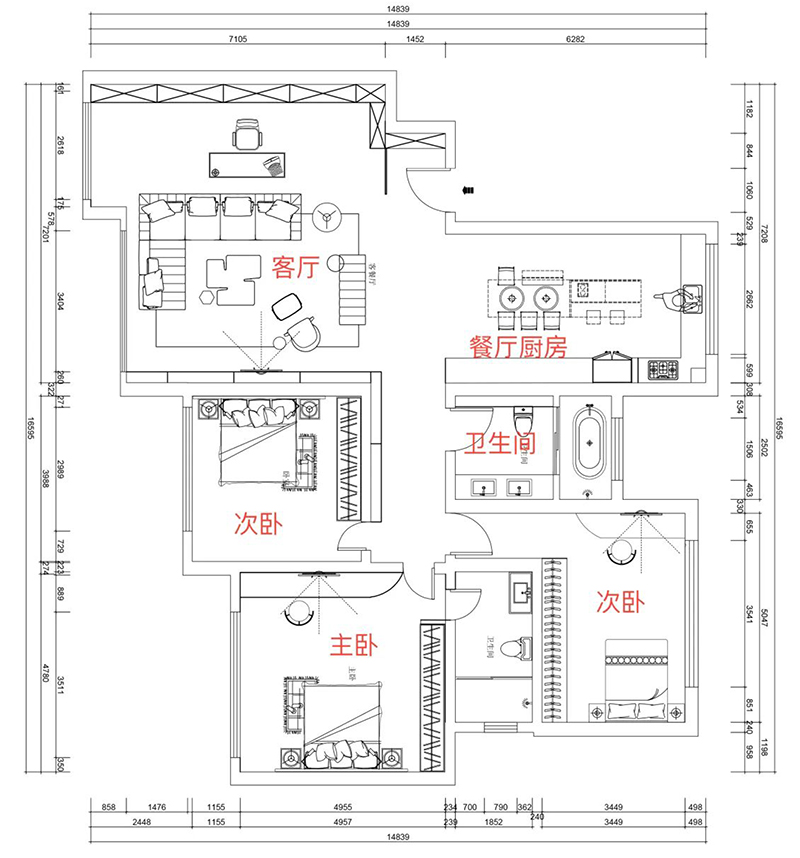 生活是片段组成的流畅惬意,设计者希望给予居者生活以融洽无间的连贯体验。空间的合理划分,让设计融入生活,营造自然、品味、格调。摒弃过多的装饰性,追求空间本身的纯粹体现生活质感。

Life is a smooth and comfortable composition of fragments, and the designer hopes to give the occupants a harmonious and coherent experience of life. Reasonable division of space, let the design integrate into life, and create natural, taste and style. Abandon too much decoration, and pursue the pure reflection of the life texture of the space itself.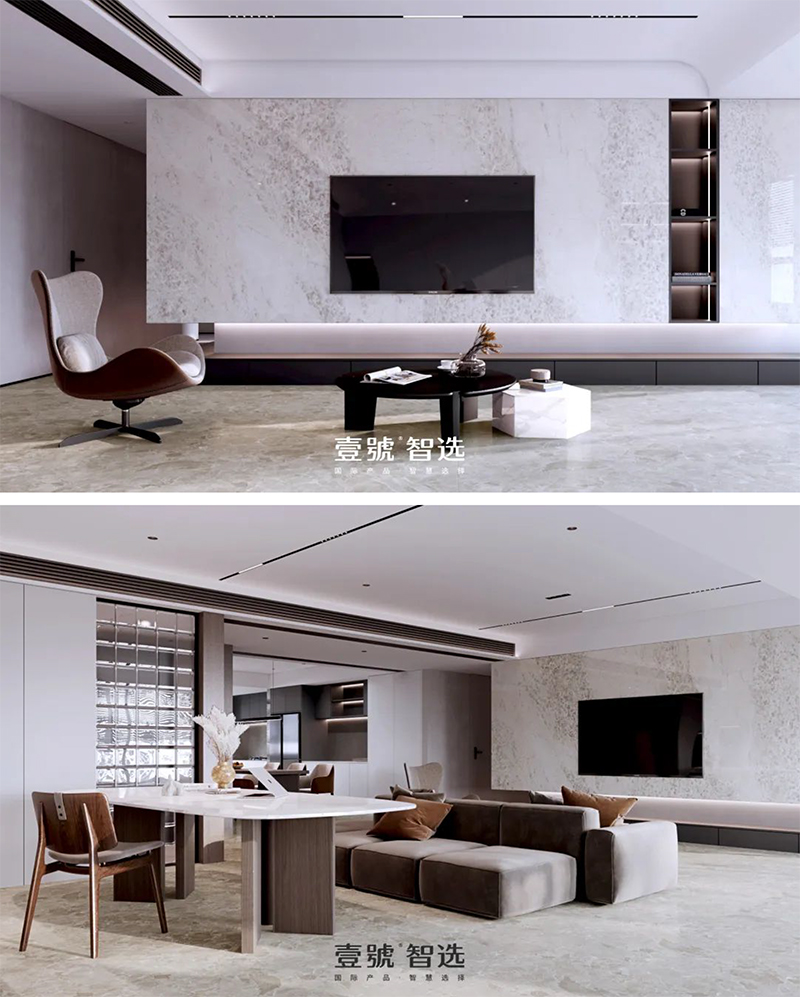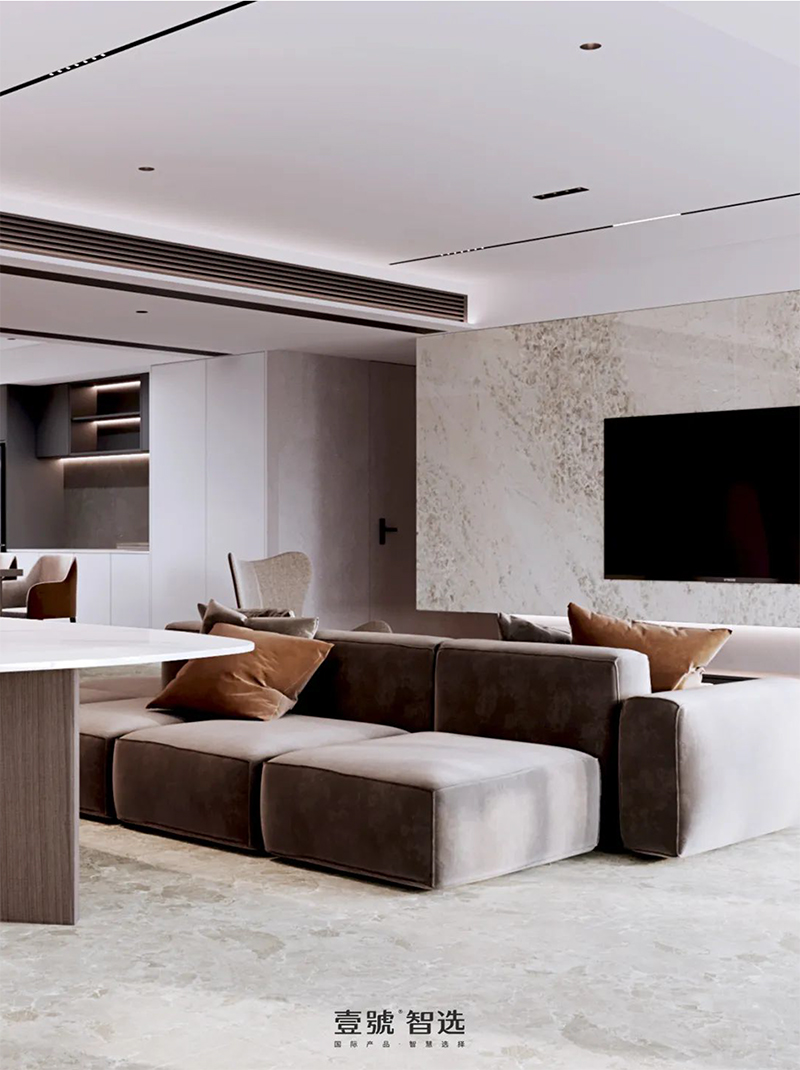 冰晶白色电视背景墙晶莹剔透,浩瀚无垠的璀璨之美,为空间点缀出一种高级静穆的特调;与之相呼应的是地面的卡塔尼亚浅灰,自然的质感,流畅的纹理,营造时尚优雅的空间。

The ice crystal white TV background wall is crystal clear, and the vast and bright beauty embellishes the space with a high-level and quiet special tone; echoing it is the light gray of Catania on the ground, natural texture, smooth texture, creating A stylish and elegant space.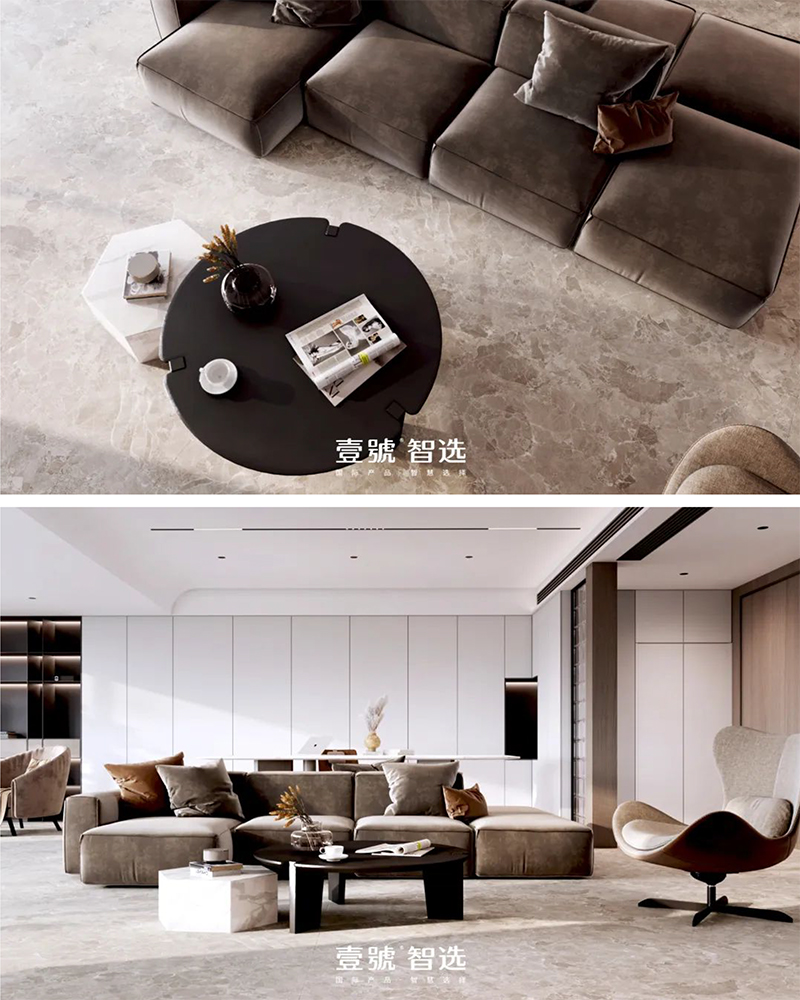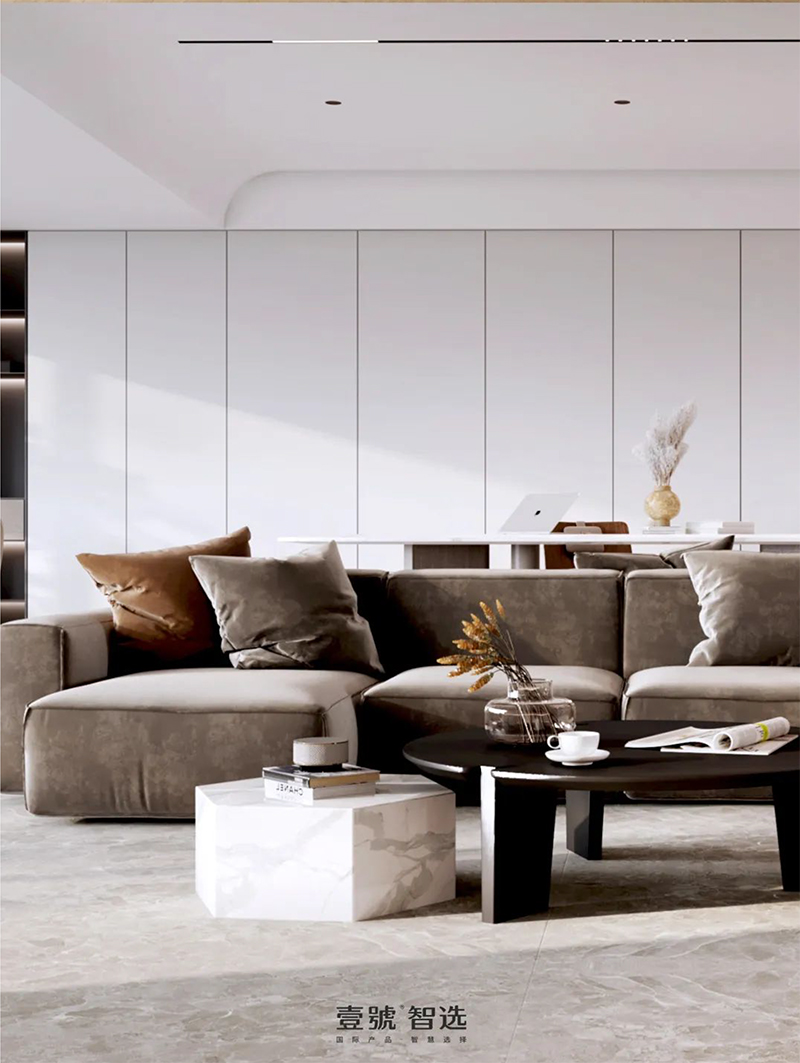 开放式厨房除去厚重墙面,岛台的隔断减轻了视觉的重量感,最美好的家庭画面依然呈现在脑海中。打破固有封闭感格局,空间被放大扩展。

The open kitchen removes the heavy walls, and the partition of the island reduces the visual weight, and the most beautiful family pictures are still presented in the mind. Breaking the inherent closed sense pattern, the space is enlarged and expanded.
中西厨房生活方式相融,奢石岩板岛台紧贴餐桌而设,岩板的肌理,原木色的桌子,留下润物无声的痕迹,守护一室的安然。

The Chinese and Western kitchen lifestyles are integrated. The luxurious stone slate island is set close to the dining table. The texture of the slate and the wood-colored table leave a silent trace of moisturizing and guarding the safety of the room.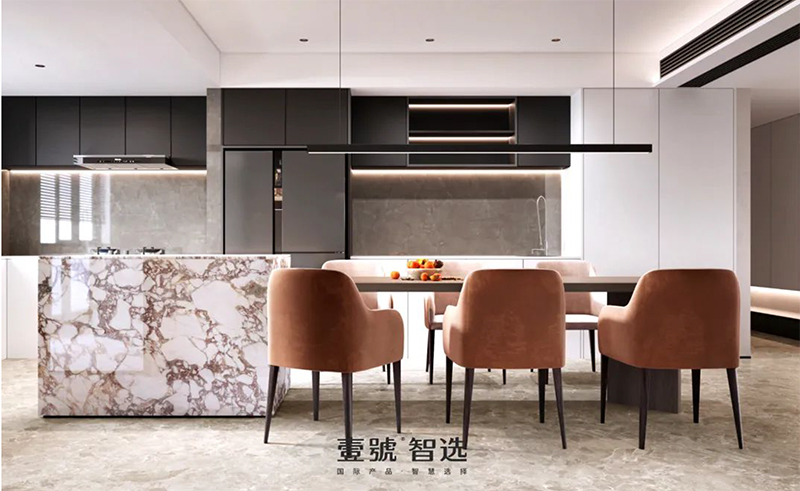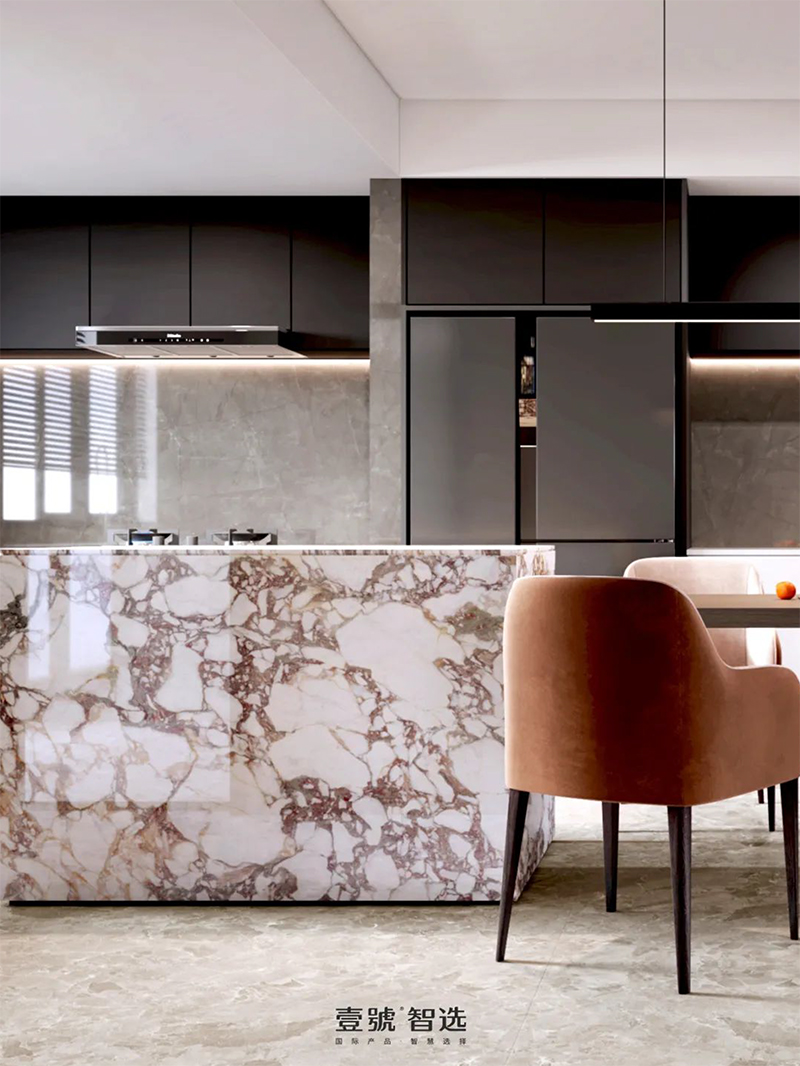 几分惬意,在自然美好的居所里发生;几分从容,在从容淡然的空间里生长。主卧延用整体色调,采用原木色的地砖与灰色的背景墙,张弛有度让居住者卸下疲惫,全景落地窗外的绿植带来温润鲜活的气息。

A little bit of comfort occurs in a natural and beautiful residence; a little bit of calmness, grows in a calm and indifferent space. The master bedroom continues the overall tone, using log-colored floor tiles and gray background walls. The relaxation allows the occupants to relieve fatigue. The green plants outside the panoramic floor-to-ceiling windows bring a warm and fresh atmosphere.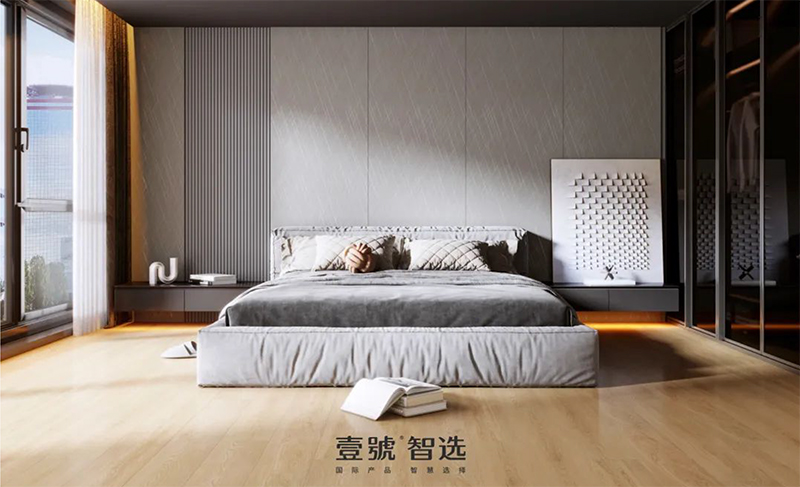 清浅的色调,馨暖的灯光,自然的理石纹路,共同组合为轻松惬意,且包容性强的的精神场所,让居者能找到属于自己的一份宁静与放松。
Light tones, warm lighting, and natural marble patterns combine to create a relaxed and inclusive spiritual place, allowing residents to find their own peace and relaxation.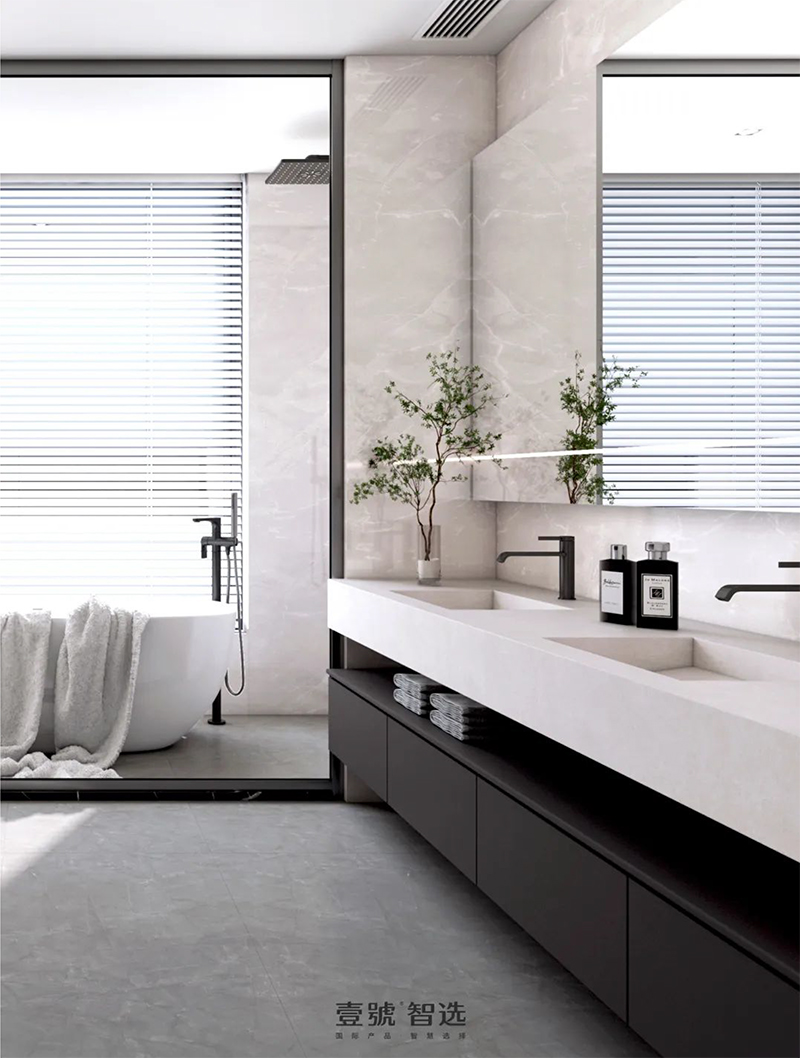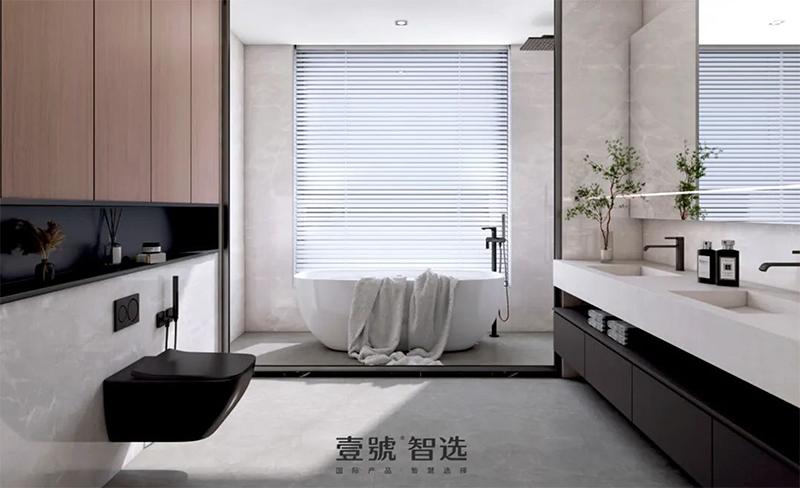 品质对生活的包裹,藏于家中每一个细节,是设计成人之美的精神转译。行走畅意,体验丰富,线条舒缓,居此佳境,从容与释放皆平衡有度。不必以外显的张扬取胜,腔调早已浸入了材质肌理,色彩的静谧,以情蕴家,以家陶情。

The package of quality to life, hidden in every detail of the home, is the spiritual translation of the beauty of design. Walking freely, rich in experience, soothing lines, in this beautiful situation, calm and release are balanced. There is no need to win by exaggerated publicity, the tone has already been immersed in the texture of the material, the quietness of the color, and the love of the home.